As we all know that India is flooded with a fascinating variety of monuments reflecting diversity in cultures.
Forts are the heritage that stands as a remembrance and a significant symbol for our vast culture. Kumbhalgarh Fort is the second largest fort in India after Chittor Fort.
HISTORY
Built-in the 15th century in Rajsamand district in Rajasthan, it is a UNESCO World Heritage Site included in Hill Forts of Rajasthan.  It was built by Rana Kumbha who was the Rana of Mewar.  The fort is also well known as it is the birthplace of Maha Rana Pratap.  This mighty fort is well built around 3600 ft tall and 38 km long making it the second-largest wall of the World.
During the kingship of Rana Kumbha, the kingdom of Mewar extended from Ranthambore to Gwalior.  Within this extension, Rana Kumbha is said to have designed all of the 84 forts present in
his dominion, out of which Kumbhalgarh is the largest and ecstatic.
It is located in the ranges of Aravalli Hills.  It is surrounded by thirteen elevated mountain peaks, the fort is said to be constructed on the topmost ridges around 1,914 meters above sea level.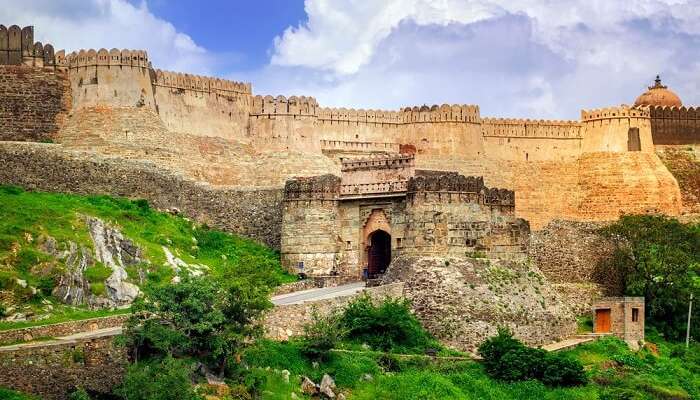 EN-ROUTES TO FORT
People willing to enjoy a train ride can get to Falna Railway Station considered to be the closest one. Further, a bus of Rajasthan State Government Roadways or a cab can be considered to reach the Fort.
For those seeking Air travel Maharana Pratap Airport at Dabok, Udaipur is the nearest airport to Kumbhalgarh.
SEASON TO VISIT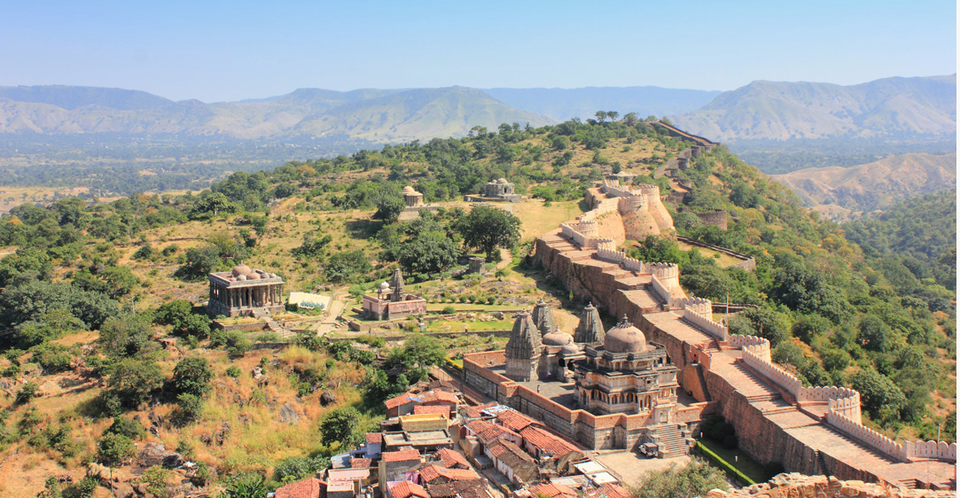 As Rajasthan is famous for its extremely hot weather conditions, for a delightful time winters are considered to be that time of the year to visit the Fort particularly from October to February.
TIMINGS AND ENTRY CHARGES
The Fort remains open for the tourists from 9:00 AM to 6:00 PM every day of every week throughout the year.
The entry charges for foreign folks is Rs 100/- whereas for the Indian visitors is Rs 10/-.
ATTRACTIONS OF THE FORT
On the way to the fort, a few kilometers before we can find ourselves on a zigzag road going through bushy forests and deep ravines. This way further leads us to a series of places like Ariat Pol, where we can have a glance at watch-tower and then Hulla Pol, Hanuman Pol, Ram Pol, Bhairava Pol, Paghra Pol, Top-Khana Pol, and Nimboo Pol. Out of these Pols, Bhairava Pol is the one which can be an adventurous deal for the people admiring adventure as it leads the trails for trekking.
The fort has a humongous variety of Jain and Hindu temples built inside it counting to almost 360 of them. Tourists can also enjoy a Musical Fountain show planned for the sole purpose of entertainment. It is also well-known for the Palace that resides on the top of the structure known as 'Badal Mahal' or 'Palace of Cloud'.
LESSER KNOWN FACTS
The Shiva Temple inside the fort has a huge Shivaling of approximately 5 feet in height. It is said that Maharana Kumbha was so huge in a physique that he used to do 'Abhishek'(pouring milk) while sitting as he could reach the height of Shivaling even remaining seated.
Maharana Kumbha failed multiple times to build the enormous wall so then a saint named 'Baid Baba' was consulted and he suggested a voluntary human sacrifice as a remedy.
Two of the picnic spots on the way to Fort known as 'Kathaar River' and ' Bageri ka Naka' have spoken to be spooky at times.
Hameri Pal is a lake that is as scenic as it is beautiful is known for the 'Giant African Catfishes'.
For the adventure and safari ride lovers, Kumbhalgarh offers a Wildlife Sanctuary which is home to various species like sloth Bear, leopard, jackal, Antelope, sambhar, nilgai, hyena, and chinkara. It also offers a variety of birds.
It is said that Maharana Kumbha used to light giant lamp which used 100 kg cotton and 50 kg 'ghee' to provide light to farmers working in the farms at night.
All images belong to their respective owners.
Also, Check our blog Varkala- must visit place of south India