Considered to be one of the best All-Rounder the world has ever seen with 27 International ODI centuries, 28 International Test centuries, 39 International ODI half-centuries and 41 International Test half-centuries Hashim Amla announced that he would be retiring from International Cricket on the 8th of August. The right-handed batsman of the South African team undoubtedly had a very successful career having played 124 Tests, 181 ODIs and 44 T20 internationals for the Proteas. Having scored 9282 runs in Tests at an average of 46.64 and 8113 runs at 49.46 average respectively Hashim Amla takes a leave from International cricket but will continue to play domestic T20 cricket in South Africa.
CAREER
Amla started his career in Test in 2004 against India in Kolkata followed by his ODI and T20 debuts in 2008 and 2009 respectively. Proving his abilities, the south african all-rounder slammed a triple hundred by scoring 311 against England at The Oval and became the first player from South Africa to achieve it. Though having a successful career Amla's performance in the World Cup has always been poor. The most unsuccessful time during his career was in the year 2015 during the match against the Windies. Though it was a win for the African team Amla could not register any credits to his list.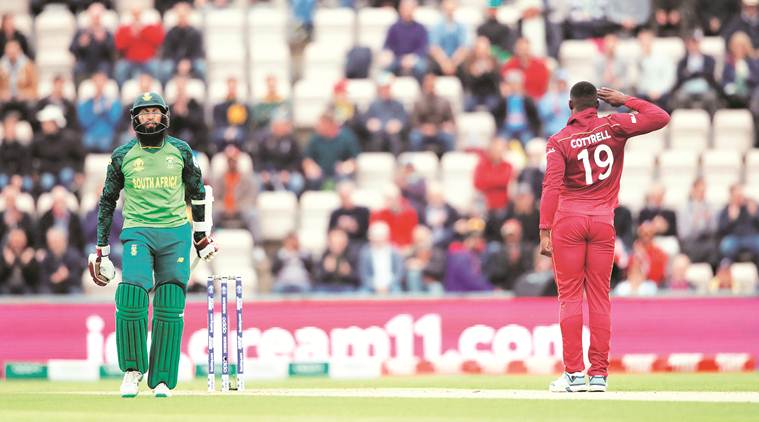 The first Test produced a poor result for Amla scoring 2 and 5 but still South Africa still won comfortably. In the following Test he scored 44 and 41 as the match was drawn, he scored 5 and 25 in the final Test match in which South Africa had won by seven wickets. He played his last match for South Africa in the World Cup 2019 game against Sri Lanka where he made an unbeaten 80.
ACHIEVEMENTS
Amla presently holds the record for the fastest 1000,2000,3000,4000,5000,6000 and 7000 beating Virat Kohli's record. Amla and AB De Villiers also set a record of 308 partnership against West Indies making it a life long achievement in a test match. He also scored 1000 runs in both Tests as well as ODI in the same year. He is also the first South African batsman to score 25 centuries in ODIs as well as the fourth cricketer to score 25 centuries in both Test and ODI cricket.
PERSONAL LIFE
Hashim Amla was born in a Muslim family in Nundarbar, Maharashtra, India. He was from a middle-class family who went to Durban High School which is also supposed to be the Alma Mater of Lance Klusener and Barry Richards. His elder brother, Ahmed Amla who is four years elder to Hashim, was also a professional cricketer. Ahmad made his debut two years earlier than Hashim and they partnershiped for a time at the KwaZulu Natal Dolphins. Amla married Sumaiyah and they have two children, the first born in 2012 and the second in 2013.
All the major cricketers took to social media and praised about his successful tenure of 15 years in the cricket team of South Africa and wished him for his future ahead. He has brought immense achievements and respect to the South African team which is known by the whole world. Certainly, this player is considered as one of the best all-rounders of all times and is looked upon as a mentor for cricketers of all age.