Juventus, nicknamed the Old Lady, is one of the most successful clubs in Europe. The Turin-based club has won: Serie A, a record 35 times, winning their 8th straight title this season; Coppa Italia, 13 times; Supercoppa Italiana, 8 times; UEFA Champions League, 2 times.
The club has seen an influx of highly skilled players over the years from various nations. The following is a list of the greatest players to have played for the club:
Goalkeeper
Gianluigi Buffon (2001-2018)
Following his the then world record €53 million move from Parma, he has been brilliant for Juventus. Winning 9 Serie A titles, his leadership, reflexes, and excellent positioning are his key characteristics. He is widely regarded as one of the greatest goalkeepers to have ever graced the game. He has been named the "Serie A Goalkeeper of the Year" a record 12 times. Buffon stayed at Juventus despite their relegation to Serie B following the Caliciopoli scandal in 2006. He was named as the "World's Best Goalkeeper of the past 25 years" by the IFFHS.
DEFENDERS
Lilian Thuram (2001-2006)
The Right Back was a dominant player, known for his strength, physicality, pace, and stamina. Adding to this, he was tactically and technically elegant, and frequently ran up and down the flank. Thuram played a pivotal role in Juventus' Serie A win in both 2002 and 2003. He provided with stellar performances in the Old Lady's 2002-03 Champions League campaign.
Ciro Ferrara (1994-2005)
A very elegant yet aggressive defender, Ferrara is renowned for his composure, athleticism, tackling prowess, technical skills, and aerial ability. He is probably best remembered for scoring the first goal in Juventus' penalty shootout win in the 1996 Champions League final. Sadly, a plague of injuries cut his career short.
Gaetano Scirea
(1974-1988)
He was an impenetrable wall at his prime. Tactically and technically intelligent, Scirea was a brilliant blend of offensive and defensive skills. Disciplined, calm, and mentally strong, he proved his worth for both Juventus and the Italian national team. Winning 7 Serie A titles, a Champions League, and a FIFA World Cup, he won everything for both club and country.
Antonio Cabrini (1976-1989)
Cabrini's attacking attributes, his eye for goal, superb dribbling, and accurate crossing redefined the fullback position. He was one of the first players to introduce an attacking dimension to the position. Cabrini was an important asset for both Juventus and Italy's defence. He helped both the teams in winning 6 Serie A titles and the 1982 FIFA World Cup respectively.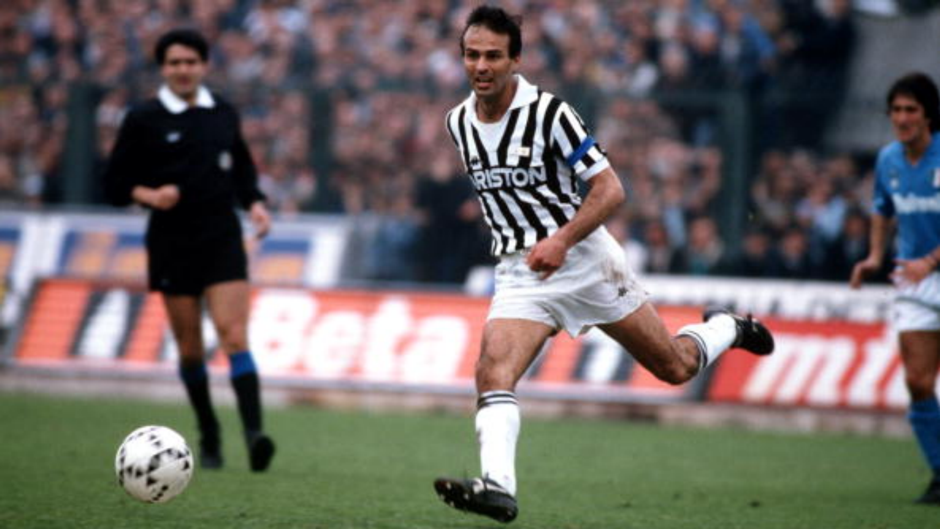 MIDFIELDERS
Pavel Nedved (2001-2009)
His signature crossing from the wing, powerful long-distance shots, dribbling ability, and pinpoint accurate passing made him one of the best players ever. However, his most extraordinary attribute was his mentality. Nedved would work endlessly on the pitch, leading the attack, while also contributing to defence.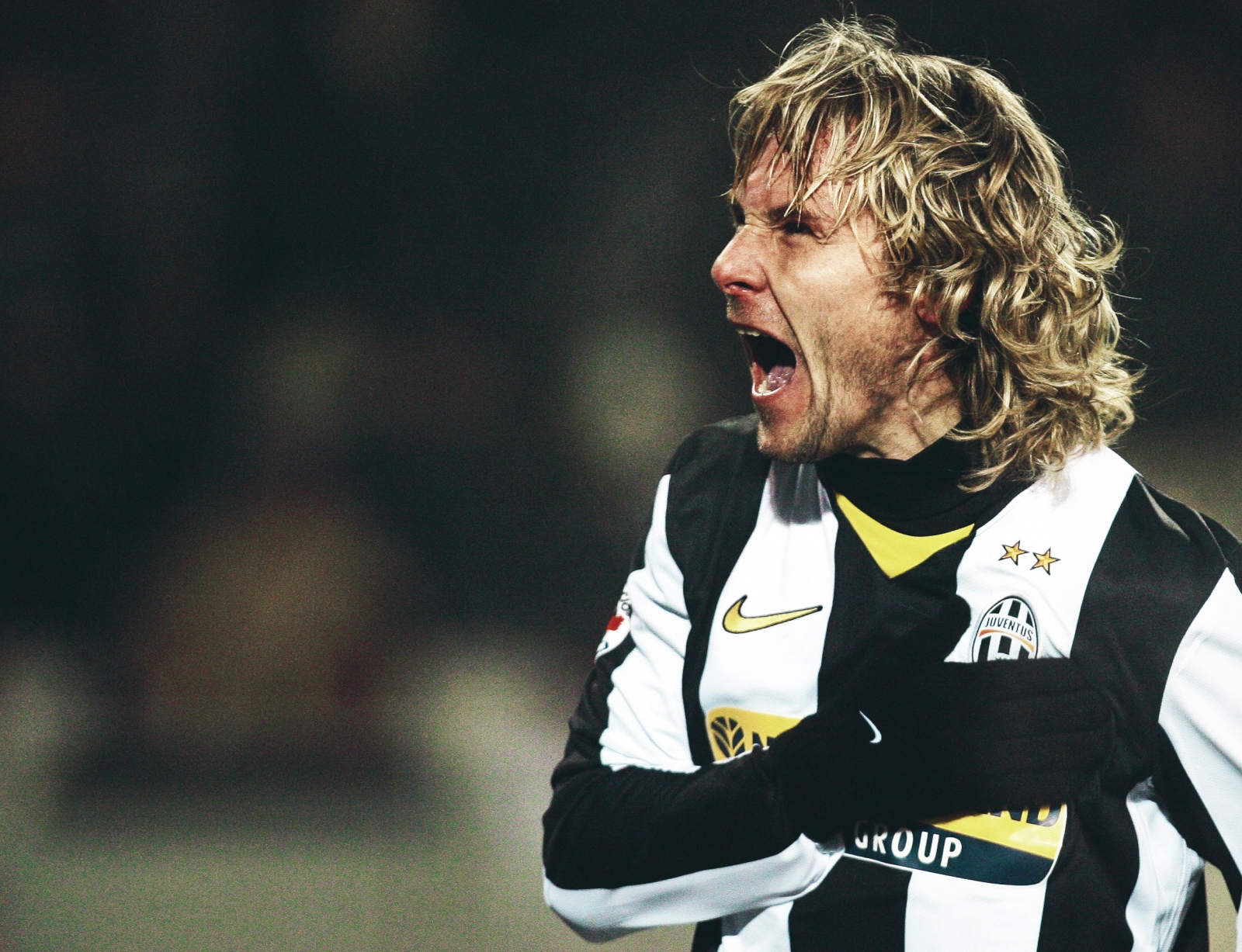 Michel Platini (1982-1987)
With unmatched elegance and vision on the ball, Platini is one of the finest playmakers to have ever played the game. Despite his lack of dominant physical attributes, he was the heart of the Juventus midfield throughout the 1980s, scoring 68 goals from 147 appearances. He finished three consecutive seasons as the top-scorer in Serie A – a testament to his footballing genius, as he usually played in behind the second striker position.
Edgar Davids (1997-2004)
Davids was known for his dreadlocked hair and the protective goggles he wore due to glaucoma. An energetic and creative midfielder, his marking ability and his aggressive tackling made him crucial to Juventus' midfield. Throughout his career, Davids was renowned for his outstanding technique and ball skills, as well as his passing ability and vision. Known for his ability to read the game, which, along with his technical ability, allowed him to be deployed in several midfield positions, including as a left midfielder, or as a central, box-to-box, or defensive midfielder.
Roberto Baggio (1990-1995)
His leadership, vision, and playmaking ability along with his skills in creating and scoring goals for his team made him a fan favourite. The fans did not like him when he first joined, as they did not see him as a viable replacement for the legendary Michel Platini. Juventus bought him from Fiorentina for £8 million, a world-record transfer fee at the time, and inherited the number 10 from Platini. He publicly stated that "Deep in [his] heart, [he] will always be purple", the color of Fiorentina. However, he quickly won the hearts of Juve fans, scoring 115 goals in 200 appearances for the Bianconeri, as well as becoming the captain in his third year at the club.
ATTACKERS
John Charles (1957-1962)
Standing at 6 foot 2, John Charles was an unmissable presence on the pitch. Nicknamed "Il Gigante Buono", or the "Gentle Giant", because, in his 25-year football career, he was never sent off, or even cautioned. His strength, pace, and a deadly shot was instrumental in Juventus' tremendous success in the late-1950's. He was sound at both Center Back and Center Forward positions, a very rare attribute.
Alessandro Del Piero (1993-2012)
Having appeared for the Bianconeri a record 777 times, Del Piero is the embodiment of Juventus. Scoring 346 goals in his duration at the club, Del Piero had unmatched skill on the pitch. A hardworking and tactically versatile player, he was capable of playing anywhere in the front line, due to his creativity, dribbling ability, deadly shot, and vision. He was instrumental in Italy's 2006 FIFA World Cup win. Although his career was marred by many ups-and-downs, but he will forever be remembered as one of Juventus' most gifted and loyal players ever.
Substitutes
Dino Zoff
Giorgio Chiellini
Zinedine Zidane
Giuseppe Furino
Cristiano Ronaldo