Mohammed Ali was one of the most famous sports personality and the significant sportsman of the 20th Century. He was nicknamed " the Greatest " because he was undoubtedly the greatest boxer ever born.
He was an American professional boxer, activist, and philanthropist. Ali was also known by the name Cassius Marcellus Clay Jr. ( Son of the famous painter and musician Cassius Marcellus Clay Sr).
Born in a small town in Louisville Kentucky US he started his boxing training at the age of 12.
Ali took his first step toward boxing by Louisville police officer and boxing coach Joe E. Martin. They encountered the 12-year-old fuming young blood over a thief's having taken his bicycle. The boy told the officer he was going to "whup" the thief. The officer told Clay that he better learn how to box first 😉
Initially, Clay did not take up Martin's offer. But after seeing amateur boxers on a local television boxing program called Tomorrow's Champions, Clay was interested in the prospect of fighting. Ali then began to work with trainer Fred Stoner, whom he credits with giving him the "real training". He eventually moulded Ali's "my style, my stamina and my system."
Clay made his amateur boxing debut in 1954 against local amateur boxer Ronnie O'Keefe. He won by split decision. Clay went on to win six Kentucky Golden Gloves titles, two national Golden Gloves titles, an Amateur Athletic Union national title. Also the Light Heavyweight gold medal in the 1960 Summer Olympics in Rome.
Clay's amateur record was 100 wins with five losses. Ali said in his 1975 autobiography that shortly after his return from the Rome Olympics, he will throw his gold medal into the Ohio River. This is because he and a friend were refused service at a "whites-only" restaurant. They fought with a white gang and the story was later disputed. Many of Ali's friends, including Bundini Brown and photographer Howard Bingham, denied it.
Thomas Hauser's biography of Ali stated that Ali was refused service at the dinner but that he lost his medal a year after he won it. Ali received a replacement medal at a basketball intermission during the 1996 Olympics in Atlanta, where he lit the torch to start the games.
Few  Famous Ali's fights.
1) Fight with Liston.
It was fought in Miami and many believed Liston to win easily. But Ali turned the table and was able to put a tear on Liston's face. Ali later won the bout by TKO ( Technical Knockout).
After winning his words to the press were – "Eat your words!" He also added, "I am the greatest! I shook up the world. I'm the prettiest thing that ever lived."
After winning this fight at the age of 22, Clay became the youngest boxer to take the title from a reigning heavyweight champion.
However, Floyd Patterson remained the youngest to win the heavyweight championship, doing so at the age 21 during an elimination bout following Rocky Marciano's retirement.
Note:- Mike Tyson broke both records in 1986 when he defeated Trevor Berbick to win the heavyweight title at age 20. He'd also been casted in many movies. ( IP Man 3)
Later after the Liston fight, Clay changed his name to Cassius X, and then later to Muhammad Ali upon converting to Islam.
Ali then faced a rematch with Liston.
It had been scheduled for Boston but was postponed for six months due to Ali's emergency surgery for a hernia three days before. The fight was controversial.
Midway through the first round, Liston was knocked down by a difficult-to-see blow the press dubbed which was a "phantom punch."
Referee Jersey Joe Walcott did not begin the count immediately after the knockdown, as Ali refused to retreat to a neutral corner. Liston rose after he had been down for about 20 seconds, and the fight momentarily continued.
However a few seconds later Walcott, having been informed by the timekeepers that Liston had been down for a count of 10, stopped the match and declared Ali the winner by knockout.
The entire fight lasted less than two minutes.
Ali defended his title against former heavyweight champion Floyd Patterson on November 22, 1965.
Before the match, Ali mocked Patterson, who was widely known to call him by his former name Cassius Clay, as an "Uncle Tom", calling him "The Rabbit".
Ali was basically a mischievous man who loved to poke n  play n make a pun.
Although Ali clearly had the better of Patterson, who appeared injured during the fight, the match lasted 12 rounds before being called on a technical knockout.
Patterson himself later said that he'd never been hit by punches as soft as Ali's.
After the Patterson fight, Ali founded his own promotion company, ' Main Bout ' earning from a side business.
In March 1966, Ali refused to be inducted into the armed forces. This was Ali 's bad times . He was systematically denied a boxing license in every state and stripped of his passport. As a result, he did not fight from March 1967 to October 1970 ie from age 25 to 29.
Soon Ali was in practice again.
After knocking Oscar Bonavena Ali was the only contenter to Frazier . Frazier was then World Heavy Weight Champion.
The Fight of the Century
Ali and Frazier's first fight, held at the Madison Square Garden on March 8, 1971. It was nicknamed the "Fight of the Century", due to the tremendous excitement surrounding the bout between two undefeated fighters. Both were Best among the top boxers in Boxing. Each had a legitimate claim as heavyweight champions.
Veteran boxing writer John Condone called it "the greatest event I've ever worked on in my life." The bout was broadcast to 35 foreign countries; promoters granted 760 press passes.
Result – Ali lost & Frazier won in 15 rounds via unanimous decision. It was the first of a trilogy, followed by the rematch fight Super Fight II (1974) and Thrilla in Manila (1975). These both were won by Ali.
Ali's second fight with Frazier was a victory for him by unanimous decision.
The Rumble in the Jungle
Later the defeat of Frazier set the stage for a title fight against heavyweight champion George Foreman in Kinshasa, Zaire, on October 30, 1974. This bout was nicknamed " The Rumble in the Jungle".
Foreman was considered one of the hardest punchers in heavyweight history. It's Foreman Vs Ali.
Ali verbally taunting Foreman and inviting him to punch, Dodging each attack. This move later became the special move known as the "Rope-a-dope".
Against the odds, and amidst pandemonium in the ring, Ali had regained the title by knockout.
Reflecting on the fight, Foreman later said: "I thought Ali was just one more knockout victim until, about the seventh round, I hit him hard to the jaw and he held me and whispered in my ear: 'That's all you got, George?' I realized that this ain't what I thought it was."
Fights against Wepner, Lyle and Bugner
Ali's next opponents included Chuck Wepner, Ron Lyle, and Joe Bugner. Wepner, a journeyman known as "The Bayonne Bleeder", stunned Ali with a knockdown in the ninth round.
Ali later said that he tripped on Wepner's foot. It was a bout that inspired Sylvester Stallone to create the acclaimed film, Rocky.
Thrilla in Manila 
Ali then agreed to a third match with Joe Frazier in Manila. The bout Famously known as the "Thrilla in Manila" & was held on October 1, 1975. It was in temperatures approaching 100 °F (38 °C).
Frazier's eyes were both swollen shut at the end of the 15 round. Coach of Frazier stopped seeing the condition. Hence Ali, in his corner was decaled winner by TKO( technical Knockout ).
After the fight, he cited Frazier as "the greatest fighter of all times next to me."
Boxing Afterlife
Therefore by the end of his boxing career, Ali had absorbed 200,000 hits.
In the later year 1984, Ali was diagnosed with Parkinson's syndrome. It is a disease that sometimes results from head trauma from violent physical activities such as boxing.
Ali still remained active during this time, later participating as a guest referee at WrestleMania.
Ali was known for being a humanitarian.
In 1980, Ali was recruited by President Jimmy Carter for a diplomatic mission to Africa. It was an effort to persuade a number of African governments to join the US-led boycott of the Moscow Olympics.
In 1984, Ali announced his support for the re-election of United States President Ronald Reagan. When asked to elaborate on his endorsement of Reagan, Ali told reporters, "He's keeping God in schools and that's enough."
In 1985, he visited Israel to request the release of Muslim prisoners at Atlit detainee camp, which Israel declined.
In 1990, Ali travelled to Iraq prior to the Gulf War and met with Saddam Hussein in an attempt to negotiate the release of American hostages.
On November 17, 2002, Ali went to Afghanistan as the "U.N. Messenger of Peace." He was in Kabul for a three-day goodwill mission as a special guest of the UN.
On July 27, 2012, Ali was a titular bearer of the Olympic flag during the opening ceremonies of the 2012 Summer Olympics in London.
The same year, he was awarded the Philadelphia Liberty Medal in recognition of his lifelong efforts in activism, philanthropy and humanitarianism.
Acting Career
His autobiography The Greatest: My Own Story, written with Richard Durham, was published in 1975.In 1977 the book was adapted into a film called The Greatest, in which Ali played himself and Ernest Borgnine played Angelo Dundee.
Inspirational Ali 's Success
Muhammad Ali defeated every top heavyweight in his era, which has been called the golden age of heavyweight boxing. Ali was named "Fighter of the Year" by The Ring magazine more times than any other fighter.
Ali was involved in more Ring "Fight of the Year" bouts than any other fighter. He was an inductee into the International Boxing Hall of Fame and held wins over seven other Hall of Fame inductees.
He was one of only three boxers to be named "Sportsman of the Year" by Sports Illustrated.
In 1999, Time magazine named Ali one of the 100 Most Important People of the 20th Century. He was crowned Sportsman of the Century by Sports Illustrated.
Named Sports Personality of the Century in a BBC poll, he received more votes than the other contenders (which included Pelé, Jesse Owens and Jack Nicklaus) combined.
On September 13, 1999, Ali was named "Kentucky Athlete of the Century" by the Kentucky Athletic Hall of Fame in ceremonies at the Galt House East.
On January 8, 2001, Muhammad Ali was presented with the Presidential Citizens Medal by President Bill Clinton.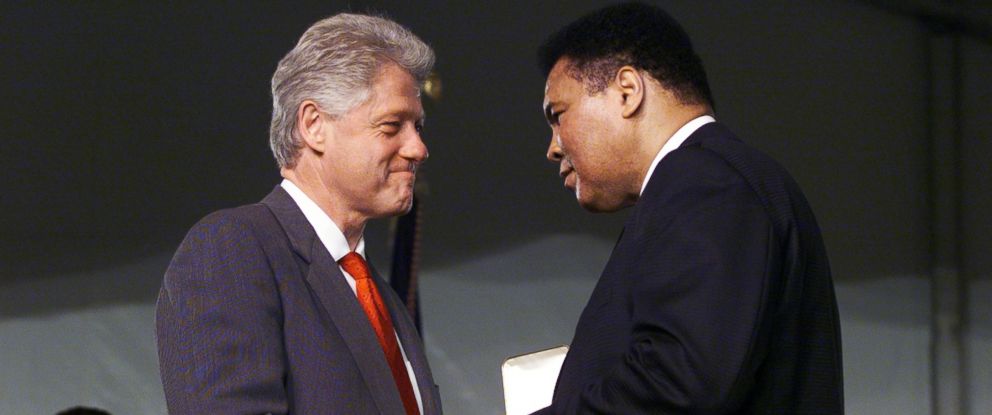 In November 2005, he received the Presidential Medal of Freedom from President George W. B. Bush.This was followed by Otto Hahn Peace Medal in Gold of the UN Association of Germany (DGVN) . It was in Berlin for his work with the civil rights movement and the United Nations. Ali received this on December 17, 2005
The 2001 biopic Ali garnered an Oscar nomination for Will Smith in the category of Best Actor for his portrayal of Ali.
In 2002, Ali was honoured with a star on the Hollywood Walk of Fame for his contributions to the entertainment industry.
Facts about Ali to inspire
1)The gloves he wore to defeat Liston earned him more money than the victory itself.
Almost 50 years to the day after Ali captured the heavyweight championship for the first time, an anonymous buyer purchased the gloves. Ali wore this gloves to defeat Liston in the seventh-round technical knockout for $836,000. Ali only earned $630,000 for the victory itself.
2) Before becoming known as Muhammad Ali, he changed his name to Cassius X.
The morning after defeating Liston, the new heavyweight champion confirmed reports that he had become a member of the Nation of Islam. With Malcolm X at his side, the champ told reporters that he had renounced his surname, which he called his "slave name," and would be known as "Cassius X". This is until the Nation of Islam leader Elijah Muhammad gave him a holy name. That name the Greatest -Muhammad Ali was bestowed on March 6, 1964.
ALI's famous bout ! 
[ https://www.youtube.com/watch?v=PLHcCvnDsLo ] – This was a boxing exhibition put on for the fans by Muhammad Ali. Ali here is fat, out of shape, ring-rusty and declining 35-year old. He faced an 18-year-old future talent; who was young, hungry, unknown and determined, who later became known as a boxer named Michael "Dynamite" Dokes.
NOTE- Dokes became known for bathing in $20,000 dollars worth of Champagne.
Finally Ali's Inspirational Words before an important fight-
"I've done something new for this fight. I done wrestled with an alligator, I done tussled with a whale; handcuffed lightning, thrown thunder in jail; only last week, I murdered a rock, injured a stone, hospitalized a brick; I'm so mean I make medicine sick."