India is a country of ecstatic cricket fans. Where the sport of cricket is worshiped, it seems correct that there should be a stadium to show the love. The Melbourne Cricket Ground, situated in Melbourne, Australia is currently the largest cricket stadium in the world. It has a seating capacity of roughly 90,000 fans. Set to shatter this record and to claim it for itself is the Sardar Patel stadium in Ahmedabad.
The Sardar Patel Stadium (named in homage to Sardar Vallabhbhai Patel) is also commonly known as the Motera stadium. It derives it's iconic name from the Motera locality in Ahmedabad. The stadium is currently under construction and is expected to be completed in a few months. The revamping of the stadium is going to increase its capacity greatly. It shall be able to hold roughly 1.1 lakh fans of the sport, thus shattering the current world record. This number is near twice the previous seating capacity.
Highlighting Features of Motera Stadium:
The Motera stadium is under the ownership of the Gujarat Cricket Association and is under the aegis of the West Zone. It shall have a huge range of facilities for smooth working and to host its possible maximum capacity. In addition, it shall hold 76 corporate boxes, each of which can seat 25 people and four dressing rooms. The stadium also boasts of state-of-the-art club facilities. This includes three practice grounds, an indoor cricket academy AND an Olympic-size swimming pool.
The stadium is spread across 63 acres of land, with three entry points as opposed to just one in the old stadium. A unique feature of the stadium will be LED lights instead of the usual floodlights at cricket grounds. This will be the first of its kind design in India.
Outside of the main ground, the stadium will be able to accommodate several other features, like two practice grounds, an Olympic sized swimming pool, indoor practice pitches, badminton and tennis courts, squash arena, table tennis area, 3-D projector theater and a clubhouse with 55 rooms. Additionally, the parking will be enhanced to accommodate 3,000 cars and 10,000 two-wheelers.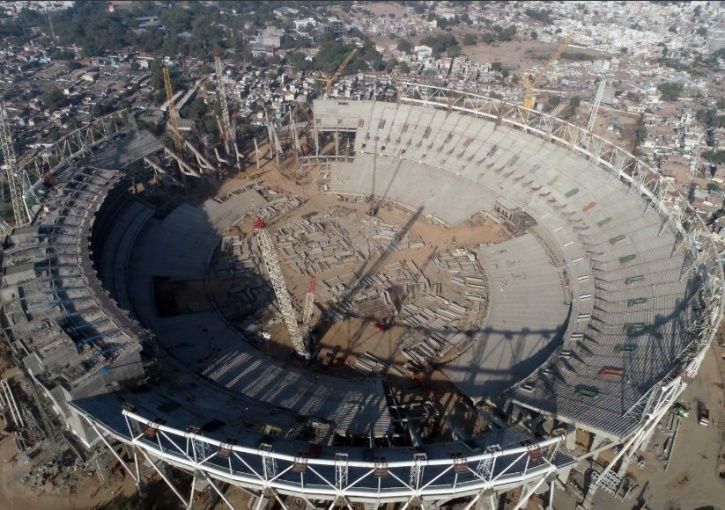 Even besides cricket, the ground has acted as host to a number of programs arranged by the Gujarat Government. The pitch has lately been host to competitive games. From December 2011, the Motera stadium had witnessed 23 ODI matches. In India, only Eden Gardens (31 ODI matches) has hosted more ODI matches than Motera Stadium.
The reconstruction and revamping of the stadium cost roughly 700 crores and is expected to open in March 2020. There is also a possibility of World XI playing a friendly fixture with Asia XI as an inaugural tie, but that is subject to the approval of the International Cricket Council.