The best way to understand India is to know its dynasty of food, culture, tradition, and monuments that never fades away. Above all, this dynasty of ours has years of history linked to it. With culture, tradition, and monuments you must've analyzed what this article is going to be about. It's very interesting to read about the history of a country and its famous monuments, sculpture, art, culture, traditions, festivals, etc. But, here's the thing, did we ever read about, How food has evolved within the past centuries? Well, of course not!! Being the most underrated topic, we'll set some light on it and its history. Let's dive into the topic!!! Tunday kababi
Introduction To The Mughal Dynasty
India is well known for the taste of it. As to understand India, flavors are enough. Each region of India has variants in its flavors, recipes, and spices. Every bite is a slice of history. Like the food, even some famous places like Lucknow have become sagas in their own right. The Mughal dynasty was first founded by Babur who established himself in Kabul. From Kabul, he conquered Punjab and unseated the Delhi sultanate, before extending his rule across the northern region of India. This dynasty was mainly known for architectural achievements and cultural influence. Moreover, it was a dynasty filled with great leaders. In the 18th century, this empire was exiled from the Indian Subcontinent by Britishers.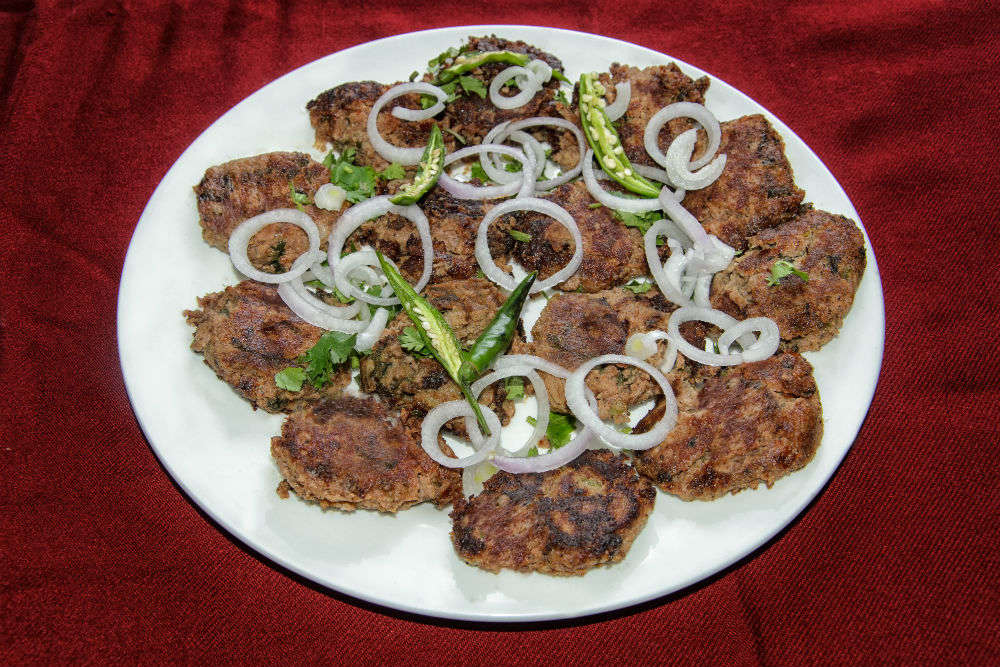 You must be thinking by now that why is this person, hopping from one motif to another!! To clear your mind that this topic rotates around one common thing that is Tunde kababi. Kebabs or meat was famous in the Mughal empire. After all, meat was Mughal's favorite and they were fond of having it. Above all, the Mughal time period was when Tunde kebab was created.
The history behind the origin of Tunday Kababi
Tunday kababi is originated from Lucknow where it was first created. Lucknow was a famous city for its Adab, Tehzeeb, beautiful jewelry and gardens as well as its chikan embroidery. This city made an occupation out of eating too. Eventually, foods have a history in this city. The name Tunde Kebab was given because it was a specialty of a one-armed chef.
Lucknow is the city of Nawabs, particularly known for its meaty delights. Especially, the kebabs which were luscious. It was believed that crumbled meat relished in the 14th century  Awadh. Although, in the 17th century Tunde kebab came in the role because of a toothless king. Kebabs consist of cut-up or ground meat.
The Story Behind It
In the 17th century, Awadhi kebabs reached out to different extents. Nawab Asa-Ud-Daula was Nawab Wazir of Awadh. He was fond of great food, but overeating had turned him overweight, and his health began worsening further with him losing his teeth. But, the meat-loving toothless Nawab had to be relieved. As he started craving badly for some mouth-watering dishes. The royal chefs tried to serve him dishes that he could have without even his teeth, but alas, they all failed. The nawab then ordered his Khansamas to make the softest kebabs that would require no chewing, this needs to be done without compromising the flavors. The Khansamas set up a competition where whosoever makes the softest and juicy kebabs, would enjoy the royal support afterward. Furthermore, the Khansamas rose to the challenge and came up with the best juicy kebabs, expecting a favorable response from the king.
As a result, Nawab Asa-Ud-Daula enjoyed the juicy galouti kebabs. Must say the result is marvelous fame in today's time. After then, kebabs became softer and softer over legacies and floored the way for the luscious Tunde Kebabs as we know it today.
"Tunde" this name sound actually uncanny as Tunde simply implies to someone with just one hand. Then why this is named after such a famous food joint? There is an interesting but tragic story behind it. The contest winner of the softest kebab maker was Haji Murad Ali, his kebab was named after him. Haji Murad Ali was working on amending the mix-up of the shahi galawat. However, he fell off the roof and broke his one arm. Although, this didn't stop him from continuing his passion for cookery.
What is Tunday kababi?
Tunday kababi is a famous restaurant and named after Haji Murad Ali. They serve one of the best buffalo meat galouti kebabs. The infamous dish of this place is winning the hearts of people since the 17th century. People who know about this outlet, when visits this shop they are just mesmerized. After all, a small shop named Tunde kebab has reached to a level no one has ever thought of. It was originally established in 1905 in the chowk area of Lucknow. It is an iconic eating joint, famous among many eateries. The kebabs at Tunday kababi are tasty as well as affordable. Therefore, these kebabs are mostly preferred by people.
The current owner of Tunday kababi says "about 60-70 kg of meat is consumed each day in our outlets". However, due to the situation these days it seems to be impossible for these many amounts of customers to come together. Since this meaty mouthful delicacy is universally loved and it was one of the most ordered foods in India, during this pandemic.
Where It Is Located?
The popular kebab shop by Haji Murad Ali came in occurring near the edge of the 17th century. The kebabs made here continue to follow a nearly guarded secret family recipe. Apparently, the women of the family make a special masala for the kebab as that using a huge 160 different spices! This restaurant is found on the streets of Lucknow and it is not so far from Lucknow railway station. In the bustling street of Gol Darwaza in the chowk area of Lucknow, it was established, in 1905. For over 9 decades, Haji Murad Ali sold his delicious kebabs at Tunday kababi. He left a legacy that people were the envy of.
In 1996, third-generation family members Muhammad Usman Ali and Muhammad Rizwan Ali chose to initiate another branch in the Aminabad area of Lucknow to extend the influence.
Since 9 decades
It is said that every person who comes to Lucknow and fond of non-veg, definitely reaches this shop of Akbari Gate once by asking the address. People come from far away to eat Tunde at a shop more than a hundred years old, they also want to see what is so special in these tunde kebabs. Every foodie worth for taste and they would know about paranthewali Gali or the Tunde kebab in Lucknow. The Awadhi cuisine incorporates 160 spices that have been carried out from one generation to another.
So, what are you waiting for?? Next time when you plan a visit to Lucknow, obviously when his pandemic ends do visit Tunday Kababi.
All images belong to their respective owners.
Also, check out Recipe Of Turmeric Seeded Loaf