1) Jarhead
It is an American biographical war drama film based on U.S. Marine Anthony Swofford's 2003 memoir of the same name. Jarhead is directed by Sam Mendes, starring Jake Gyllenhaal as Swofford with Jamie Foxx, Peter Sarsgaard and Chris Cooper. It's a 2005 made thrilling movie.
The title comes from the slang term 'Jarhead' used to refer to United States Marines.
Jarhead means empty heads or the shape of the head resembles like a Jar.
#Note: Sometimes Cadets of our prestigious National Defence Academy NDA are also called Jarhead.
It is a psychological study of operations desert shield and desert storm during the gulf war. It is carried upon through the eyes of a U.S marine sniper who struggles to cope with his girlfriend may be cheating on him back home. Antony joins Military School just as his father did and also was among the top 10 Sniper Scout team during training.
Furthermore Jarhead 2: Fields or Fire, Jarhead 3: The Siege and Jarhead 4 are its sequels.
https://youtu.be/ufOC6fq3fPg – My Favorite Scene in history.
2) Hacksaw Ridge
It is a biographical war drama Military movie directed by Mel Gibson and written by Andrew Knight and Robert Schenkkan. Hacksaw Ridge is based on the 2004 documentary The Conscientious Objector.
In addition to the film focuses on the World War II experiences of Desmond Doss. He is an American pacifist combat medic who refused to carry or use a weapon or firearm of any kind. Andrew Garfield ( The Amazing Spider Man hero ) played the role of Doss.
The American Army Medic Desmond T. Doss who served during the Battle of Okinawa refuses to kill people; moreover doesn't even touch his rifle. He later becomes the first man in American history to receive the Medal of Honor without firing a shot. Therefore service above and beyond the call of duty during the Battle of Okinawa made him earn the same.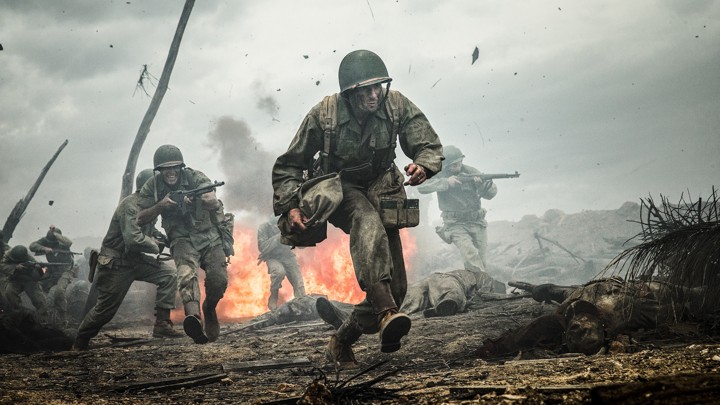 3) Saving Private Ryan
Saving Private Ryan is a 1998 American epic war film directed by Steven Spielberg and written by Robert Rodat.
It is set during the Invasion of Normandy in World War II. This film is a must watch for its graphic portrayal of war and moreover for the intensity of its opening 27 minutes. The scene includes a depiction of the Omaha Beach assault during the Normandy landings.
The United States Army Rangers Captain John H. Miller (Tom Hanks) and a squad (Tom Sizemore, Edward Burns, Barry Pepper, Giovanni Ribisi, Vin Diesel, Adam Goldberg, and Jeremy Davies) search for a paratrooper, Private First Class James Francis Ryan (Matt Damon) who is the last surviving brother of four servicemen.
4) American Sniper
American Sniper is a 2014 American biographical war drama film.
It is based on the memoir American Sniper: The Autobiography of the Most Lethal Sniper in U.S. Military History (2012) by Chris Kyle.
The film follows the life of Kyle, who became the deadliest marksman in U.S. military history with 255 kills from four tours in the Iraq War. 160 out of 255 were officially confirmed by the Department of Defense.
While Kyle was known for his military successes, his tours of duty took a heavy toll on his personal and family life.
Navy S.E.A.L. sniper Chris Kyle's accuracy saves countless lives on the battlefield and turns him into a legend. However, back home to his wife and kids after four tours of duty he finds that it is the war he can't leave.
5) Black Hawk Down
Black Hawk Down is a 2001 American war film. It is based on the 1999 non-fiction book of journalist Mark Bowden.
As an embedded journalist, he covered the 1993 raid in Mogadishu by the U.S. military aimed at capturing faction leader Mohamed Farrah Aidid. The ensuing firefight became known as the Battle of Mogadishu.
In this epic war portrayal 160 elite U.S. soldiers drop into Somalia to capture two top lieutenants of a renegade warlord and find themselves in a desperate battle with a large force of heavily-armed Somalis.
It's a must watch.!!
6) 12 Strong
Also known as 12 Strong: The Declassified True Story of the Horse Soldiers is a 2018 American action war drama film.
In fact, the film is based on Doug Stanton's non-fiction book Horse Soldiers, which tells the story of U.S. Army Special Forces sent to Afghanistan immediately after the September 11 attacks.
The film stars Chris Hemsworth ( OUR THOR ).
Basically, 12 Strong tells the story of the first Special Forces team deployed to Afghanistan after 9/11 under the leadership of a new captain. However, the team worked immensely well with an Afghan warlord to take down the Taliban.
This is my favourite ❤️.
7) Dunkirk
Dunkirk is a 2017 war film written, directed, and produced by Christopher Nolan that depicts the Dunkirk evacuation of World War II.
In this movie, allied soldiers from Belgium, the British Empire, and France are therefore surrounded by the German Army and evacuated during a fierce battle in World War II.
As a result, the film is a British-American-French-Dutch co-production and was distributed by Warner Bros.
Therefore no one should miss watching this amazing movie.
8) Apocalypse Now
Apocalypse Now is a 1979 American epic war film about the Vietnam War. In this movie, a U.S. Army officer serving in Vietnam is tasked with U.S. Army officer serving in the same country. He is tasked with assassinating a renegade Special Forces Colonel who sees himself as a god.
9 ) Che: Part One and Che: Part Two
Che is a two-part 2008 biographical film about Argentine Marxist revolutionary Ernesto "Che" Guevara.
Rather than following a standard chronological order, the films offer a series of interspersed moments along the overall timeline.
Part One is entitled The Argentine and focuses on the Cuban Revolution from the landing of Fidel Castro, Guevara, and other revolutionaries in Cuba. This is moreover to their successful toppling of Fulgencio Batista's dictatorship two years later.
Part Two is titled Guerrilla and focuses on Guevara's attempt to bring revolution to Bolivia and his demise. Both parts are shot in cinematic style, but each has different approaches to linear narrative, camerawork and visual look.
In this movie Ernesto 'Che' Guevara & band of Castro-led Cuban exiles mobilize an army to topple the regime of dictator Fulgencio Batista. It's set in 1956.
10) The Longest Day
The Longest Day is a 1962 epic war film based on Cornelius Ryan's 1959 book The Longest Day (1959) . It is about the D-Day landings at Normandy on June 6, 1944, during World War II.
Basically, in this movie, the events of D-Day are told on the grand scale from both the Allied and German points of view.
Note: D-Day:- The Normandy landings.
However these were the landing operations on Tuesday, 6 June 1944 of the Allied invasion of Normandy in Operation Overlord during World War II.
Codenamed Operation Neptune and often referred to as D-Day, it was the largest seaborne invasion in history. The operation began the liberation of German-occupied France (and later Europe) from Nazi control and laid the foundations of the Allied victory on the Western Front.
Note:  Memoir – a historical account or biography written from personal knowledge.