UEFA CHAMPIONS LEAGUE
UEFA is called to be the second biggest tournament in football after the FIFA world cup. every year the world's best clubs go head to head with each other to win the UEFA trophy. Real Madrid is the most successful team in this competition with a whooping 13 UEFA champions league trophy, followed by 7 of AC Milan and 6 of the raining champions Liverpool at UEFA.

In Champions League History "Cristiano Ronaldo" is its highest goal scorer with a current tally of 128 at a rate of 0.76 goals per match followed by "Leo Messi" with 114 goals at a rate of 0.86 goals per match.
this year champions leagues draw was held a Nyon on 16 December at 16:30 at our local time, last 16 left in this seasons champions league is:
1.Borussia Dortmund
2.Paris Saint-Germain
3.Real Madrid
4.Manchester City
5.Atalanta
6.Valencia
7.Atlético Madrid
8.Liverpool
9.Chelsea
10.Bayern Munich
11.Lyon
12.Juventus
13.Tottenham Hotspur
14.RB Leipzig
15.Napoli
16.Barcelona
The Fixtures that came out were quite interesting, following are the Fixtures:
Round of 16 first legs
Tuesday 18 February
Dortmund v Paris
Atlético v Liverpool
Wednesday 19 February
Atalanta v Valencia
Tottenham v Leipzig
Tuesday 25 February
Chelsea v Bayern
Napoli v Barcelona
Wednesday 26 February
Real Madrid v Manchester City
Lyon v Juventus
Round of 16-second legs
Tuesday 10 March
Valencia v Atalanta
Leipzig v Tottenham
Wednesday 11 March
Paris v Dortmund
Liverpool v Atlético
Tuesday 17 March
Manchester City v Real Madrid
Juventus v Lyon
Wednesday 18 March
Bayern v Chelsea
Barcelona v Napoli

I am, to be honest, very much excited looking at all of these draws, this time we will have a fantastic round of 16.
1. PARIS SAINT GERMAN V/S BORUSSIA DORTMUND
This draw would certainly be one of the most interesting and must watch the draw. we know that both teams have a very powerful front three as PSG has Neymar, Icardi, and Mbappe and BVB has Reus, Sancho and Alcher as their front three.it all depends on that day which defense plays more properly as we know this season BVB's defense has been vulnerable to fast and skillful attack and PSG can exploit it very well. but still, BVB is very good at counter-attack and with Sancho in the mix, if its Sancho's day then PSG will find them in trouble and looking at their track record in R16 they have to play with very much caution
"My prediction"
1ST LEG PSG 3-2 BVB
2ND LEG PSG 2-1 BVB

2. ATLETICO MADRID VS LIVERPOOL
To Be Honest, Atletico is a bit unlucky going in this draw.to be facing the world's best teams right now in Europe is going to be a very tough task for them. with Godin has gone they will surely find them selfs in quite a trouble. and giving the forms of Mane and Salah Liverpool are going to the quarters. but still, Atletico can't be underestimated with the like of Jao Felix and Morata anything is possible.
"My prediction"
1ST LEG ATM 0-3 LIV
2ND LEG ATM 0-1 LIV

3.ATLANTA VS VALENCIA
This can be really a nice draw with valencia beating the previous year's semi-finalists ajax and Atlanta making it through the group stages after losing 3 matches on through, this will be a match you can not take for granted. I think anything is possible from this draw this will be a close one.
"My predictions"
1ST LEG ATL 2-2 VAL
2ND LEG ATL 2-1 VAL'
4.TOTTENHAM VS LEIPZIG
Tottenham with a new manager Jose Mourinho is looking good. On the other hand, Leipzig is 2nd in Bundesliga. Both are quite lethal I attack and have a stable defense .it will all depend on how Tottenham prepare for the match. If the match was being paid tomorrow Leipzig would have won it easily with the type of form they are in. Timo Werner is in his form of life everything he is touching is turning into goals.
"My prediction"
1ST LEG TOT 0-1 RBL
2ND LEG TOT 3-3 RBL

5.CHELSEA VS BAYERN
This is a fixture that I am waiting for the most, this can be decisive for both teams. a win in this team can infuse some confidence in both teams going forward. this even brings back a deja vu feeling of the 2012 cl final I Bayern when Chelsea beat Bayern in Bayern's home. but Bayern has an excellent record with all the London clubs. each team has a lethal attack that can destroy any opposition. with Levandoski currently with the most goals in this season CL and Abraham being in a tremendous form, anything is possible and each team has a fair chance to win this game. if Chelsea manages to pull a successful January transfer window they might even be one of the top contenders for the cup.
"My prediction"
1ST LEG CHE 0-3 BAY
2ND LEG CHE 4-3 BAY

6.REAL MADRID VS MAN CITY
This will be a semi-final draw with city and Madrid coming face to face in a place for the quarters, this is why we love champions league.pep has to prove himself that city can win champions league, and Madrid wants to prove that it was just one bad season nothing else.the stakes of this match is going to be very high. for sure this will be a mouth-watering clash. This is surely a footballing version of the clash of titans.
"My prediction"
1ST LEG MAN.CTY 2-1 RM
2ND LEG MAN.CTY 3-2 RM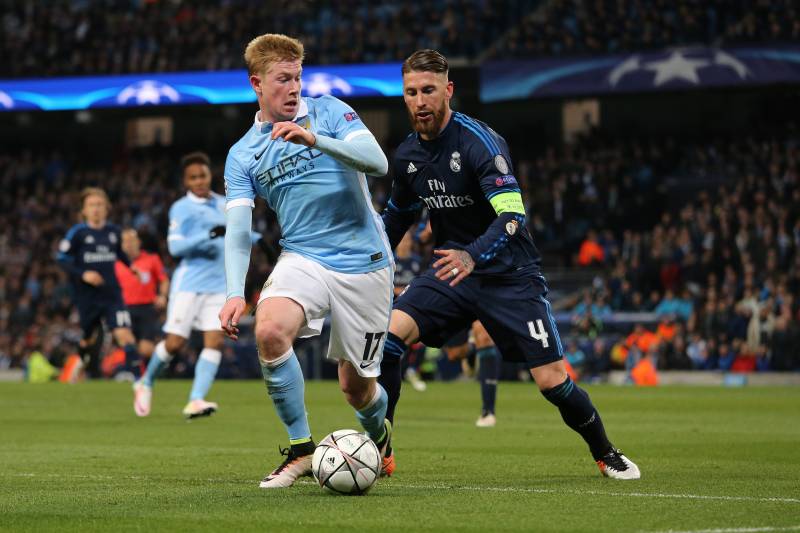 7.BARCELONA VS NAPOLI
Nothing to say about this fixture it will surely be an easy fixture for barca.messi has to prove things and with a new trio at the front, he will surely do it
"My prediction"
1ST LEG FCB 4-0 NAP
2ND LEG FCB 3-2 NAP

8. JUVENTUS VS LYON
Juventus will find it very easy. all eyes will be on Ronaldo, and with depay out of the Lyon squad due to injury. This fixture is just a formality.
"My prediction"
1ST LEG JUV 3-0 LYO
2ND LEG JUV 3-1 LYO


Let us hope this footballing season we have a tremendous joy and fun while watching champions league.